Whew! It's been a minute friends, I'm still here. Oklahoma has been nothing but wet, flooded & cloudy over the last month. I'm sure happy to see the sun shining for the first time this week. I can tell you 1 thing for sure, I am 100% a sunshine girl. Crap weather can sure put you in a funk... How's your weather been?
Kelli and I are back today with our Monthly Faves link up. I'm sharing what I've been doing, loving & watching over the last month. No rules, it's open all month. I can't wait to read all of yours! Grab a button & link up if you'd like-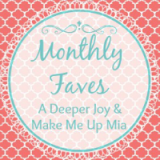 Big Change.
About 2 months ago I booked an appointment with Kelsi at Sterling Salon in Tulsa. I wanted a big change, I was treating myself for my birthday. Saturday was the day and I can't say enough good things about Kelsi or the salon, highly recommend it if you're in the Tulsa area. I chopped my hair off, got it colored (I only color because of grays... ugh!) and got a Keratin treatment. The difference after that treatment is amazing, I feel like a normal human being now. I love my cut, exactly what I was wanting! I had a great birthday weekend with family. Dustin made me feel extra special as well, gosh I love that man.
Gold Spray Paint.
I won't say I've gone overboard with it, but Dustin better not let me buy another can or I probably will... I've just been freshening up what I can in our house with a little paint. I'm not a huge interior design person, it's just not something I splurge on. Honestly, it tends to overwhelm me. We've been slowly brightening up our home little by little, I like to save where I can. I'm loving the little changes we've made so far.
Pamper Me.
Dustin and I are now Massage Envy members and loving it. My friend Jen is a member and suggested it to me. If you aren't familiar, they are a chain company and offer custom massages & facials. Beautiful place, great staff. We were both sick of being sore and dealing with all the constant knots in our back so we took the plunge. We get 1 massage a month now. It's nice to have this to look forward to each month. We've been doing a Sunday couples massage. I get mine medium, so I get to enjoy a little relaxing pamper but also get those stupid trouble areas worked on. Lifting weights can be so rough on your body, it's important to take care of yourself. Just took us a little while to figure this out...
Pretty in pink.
I bought Essie's "Boom Boom Room" last year and still love it. It's the perfect Barbie pink, I can't get enough.
TV Obsessions.
Dustin and I are both hooked on Fixer Upper & Parenthood right now. Yes, I know we're late to the Parenthood party but oh my gosh, we can't get enough. We aren't even big tv people but every spare second we get right now, one of us says "let's watch an episode of Parenthood!" We're half way through season 2 right now. Thank you Netflix. And Fixer Upper, seriously how adorable are they? Can Joanna PLEASE come do our house?!
What have you been loving?