Well it's April 1st, anyone been fooled yet? Or better yet, fooled anyone?
Kelli
& I are back with our Monthly Faves link up.
New here? It's a monthly linkup of everything you were loving the previous month. Anything- food, beauty, household, fashion, music, tv, people, etc. You get the point. No rules. It's the
first Wednesday of each month
, and the linkup is open all month long. So join in anytime. Grab a button too if you'd like!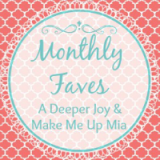 MyOatmeal.com custom peanut butter powder - If you're a PB powder fan like I am, you MUST try these out. The possibilities are endless and I love them. You select your flavors, sweeteners and any other additives. You control it all and give it a special name. I created a chocolate hazelnut & sugar cookie one and a protein oatmeal cookie one, both are delicious. I mix them with water to make peanut butters or use the powders in shakes or yogurts. You can create your own oatmeals too!
Yasso Frozen Greek Yogurt bars in Chocolate Chip Cookie Dough - Well, they're actually all good but I'm a cookie dough fanatic. So tasty, and great macros too.
::Home::
My custom calligraphy print from EverLettery Studio - Is it not the prettiest? Shelby is so talented! I'm really enjoying mine, such a pretty addition to our home office. (Congrats to Jasanna & Melissa who each won one Monday)
::Beauty::
L'Oreal Infallible Pro-Matte foundation - I've been testing this out over the last month, I am definitely enjoying it. It's a great foundation for us oily girls, not too thick and keeps me nice & matte. I will say the color selection could be a little better. The lightest is a tiny bit too light for me but the next step up is a tad too dark.
NARS Lip Gloss in Angelika - I know, it's just a pink lip gloss right? I bought this last year and was so happy to bust it out again. I LOVE it. The color, the formula, everything. It's a perfect no fuss pink gloss! The color description says "cotton candy with gold flecks"... Pretty darn perfect. Also, can you tell I hate taking lip selfies?
YOUR turn, tell me what you've been loving lately…