I'm glad you're here and I'm crossing my fingers that you're joining
Kelli
& I today!
New here? It's a monthly linkup of everything you were loving the previous month. Anything- food, beauty, household, fashion, music, tv, people, etc. You get the point. No rules. It's the
first Wednesday of each month
, and the linkup is open all month long. So join in anytime. Grab a button too if you'd like!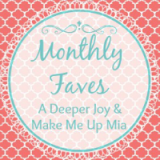 Some random faves..
So, I quit drinking coffee and it was not planned. I did a 14 day Teatox last month and after it was over I had a personal goal to cut way back on creamer. I'm the person that would drink creamer with a side of coffee. Drinking all that creamer daily was not healthy for me and I really wanted to stop. I was a coffee addict and never liked hot tea. 1 month into 2015 and I'm now a hot tea addict and I'm not missing coffee, CRAZY huh... I drink 2 cups of hot green tea a day, 1 when I wake up and 1 in the afternoon, and I'm loving it. This one is a current fave! I got it at Target and I'm just really enjoying it. I'm on my 2nd box now.
I've tried a ton, I keep going back to Suave. (Karly will back me up here...) It's cheap and it really does a great job. Not going to lie, the smell is a little strong so spray it and walk away for a sec, but I feel like it's a great & affordable pick.
This is from a recent Ipsy bag, I will be purchasing this when I run out. It's actually the first Bumble product I've used, I get it now ladies. You put it in your hair before you blow dry and it claims to repair your hair with each blow dry. I can't say if it's actually repairing my hair, but it sure makes it super soft & shiny, it just feels healthy.
That's a mouth full. I recently pulled this back out just to use it up, but I'd forgot how much I liked it. It's scary pink when you first apply it, but the color evens out perfectly on my skin. It doesn't crease on me and it brightens up my skin nicely. I apply it under my eyes, the sides of my nose and down the bridge of my nose a little.
Rachel Talbott
I'm a total YouTube beauty guru junkie, have been for years, and I've watched Rachel from the beginning. Her videos have been extra amazing lately, bright & airy, I just can't get enough. She is gorgeous, smart, creative and seems so genuine. She's a healthy lifestyle wife & mom who loves beauty and organizing anything & everything. I just love her! She has an awesome blog as well.
Find Rachel here:
Unglued: Making Wise Choices in the Midst of Raw Emotions
I read Lysa Terkeurst's book Unglued: Making Wise Choice in the Midst of Raw Emotions while on the planes to and from Florida last month. I really enjoyed it and I breezed right through it. I don't read a ton to be honest, but when I do it's usually self help books like this, I enjoy them the most. When I look back to 2014 I see a different person, I can totally see how I handled the emotions of Christian's accident all the wrong way. So I thought this book would be a good pick for me and it definitely did not disappoint. It focuses on so much regarding your emotions and how to handle them in different situations, and how to reflect Christ in these situations. It's full of sweet words of wisdom that slap you in the face, like...
Taco Chili Recipe
Not much to say about this recipe besides it's easy and pretty darn tasty. I found it on Pinterest and we've made it twice recently. I top it with avocado chunks, a few tortilla chips and a dollop of Greek Yogurt. I love simple recipes and this one is just that. *side note- I've made it on the stove and in the crockpot, either way works and tastes the same.
Any of these things I mentioned a fave of yours too?