Here we are, the very first Monthly Faves link up for 2015! Glad you're joining Kelli & I today. Below you'll find everything I was loving in the month of December.
New here? It's a monthly linkup of everything you were loving the previous month. Anything- food, beauty, household, fashion, music, tv, people, etc. You get the point. No rules. It's the
first Wednesday of each month
, and the linkup is open all month long. So join in anytime. Grab a button too if you'd like!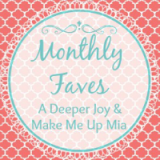 Walden Farms Pancake Syrup
The Walden Farms products are hit and miss. I love their Chipotle Ranch but had to throw away their peanut butter. I saw a fitness girl I follow on IG talking about the syrup tasting good, so I thought I'd give it a try. I was very pleasantly surprised! Plus, it was on sale. Even better!
Dove Winter Care bar soap & body wash
I've used the bar for the last 3 years, this year I bought the body wash & have been using them both. Yes, I actually wash twice in the shower, using 2 different soaps. Weird? Anyway, my skin gets so dry & itchy in the winter time! I hate it. This stuff definitely helps me! I buy the bars at Sam's, so we're good and stocked up now.
The Body Shop Wild Argan Oil Body Lotion
I slather lotion on right after my shower, before I crawl into bed. I have been using and loving this one. It has a great light scent, it's very moisturizing and is not oily at all. Between this and the soaps, I'm not fighting with itchy skin this season!
I was introduced to Zoya thanks to Ipsy. I have since bought a few of them and I can't say enough good things. As far as a "normal" polish, they rock. They stay on longer than any other normal polish I own. If I'm not using my CND Weekly Polish, I enjoy the Zoya ones. I picked this shade up on a whim at Ulta and was very surprised at how much I liked it on. It's different than my typical shade preference, but I'm a fan!
After seeing this Cowboy Studio lighting kit on a post from IHeart Organizing in November, I did a little research and went for it. It's such an awesome value, right at $60. We all know the blogger struggle when it comes to photography and the right lighting, this will fix that. You can shoot blog photos anytime people! Go for it, you won't regret it. It's made my life a whole lot easier.
My favorite blogger and best friend is back after a little blogging hiatus. Last week, Kristal launched her new site - Love, Grace & Hope. The focus with her new blog is to create a place for women to come to who share the same passion & love for the Lord. A place to build a community of women who love & seek him daily. I think this year is going to be a fabulous one for her! She kicked it off this week with a series about Grace.
There are a few things that I've been loving recently. I already have a list going for January favorites and we're only 1 week in, next months might be a big one...
Your turn, tell me YOUR faves!