Hey hey, happy Wednesday. We're half way there! Welcome to the October monthly faves linkup with your hosts, Kelli and yours truly.
New here? It's a monthly linkup of everything you were loving the previous month. Anything- food, beauty, household, fashion, music, tv, people, etc. You get the point. No rules. It's the first Wednesday of each month, and the linkup is open all month long. Grab a button too if you'd like!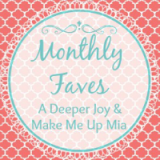 I bought this last year and I recently rediscovered it. I learned about it from Makeup by TiffanyD and went for it. I love shadow sticks for during the week and this one is a great mauve taupe shade with a slight shimmer to it.
|| FOOD ||
Ok, so I know this is not healthy but sometimes I just want a little treat. I've been adding a splash to my coffee here and there and gosh it's delicious!
|| MUSIC ||
Yep, I'm a T Swift fan for life so I couldn't wait to get this album. It definitely does not disappoint!
Favorite songs on the album: Style, Wildest Dreams & Out of the Woods
I read these two posts recently and loved them, check them out if you're a fellow Taylor fan.
*My friend Angela and I have also seen ALL the Taylor Swift tours, no plans to miss one!
|| RANDOM ||
If you saw this master bedroom post earlier this year, you'll know we have "Always kiss me goodnight" in a few places in our room. So when I saw this precious little puppy sign at TJ Maxx I had to have it! Pixie sleeps on a little pup bed in our room, this sign now lives above it.
There are a few things I was loving in October, can't wait to see yours next!
Are you a Taylor fan, if so, what are your faves on 1989?
Discover anything new in October?