Morning friends, and hello October 1st. Here we are for another Monthly Faves post. New here? Kelli and I host this on the first Wednesday of each month. A place to link up and share everything you were loving the previous month. Here are some of my previous posts: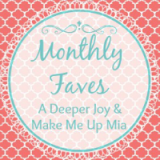 This Lip Product:
Revlon Colorburst Lip Butter in the shade Berry Smoothie has been living on my lips. I love the creamy & moisturizing formula of these and this shade is just the right amount of color for everyday use. Plus, it's drugstore. Score.
This Bag:
I stumbled across this bag while checking out at Payless Shoes. It was $22 and I had to have it. I feel like it's the perfect bag to add a pop of leopard to a casual outfit this fall. It's not online, and it was on sale. Run, don't walk.
This Hair Product:
I got this Shine So Bright when I toured the new Lush in Tulsa back in February. It kind of got lost in the piles of beauty products I hoard have. Well, it now lives on my counter and I'm using it often. It's a small tin, a balm that you rub on your fingers and smooth through the ends of your hair. It's amazing and I'm in love with it! It makes your hair so soft and shiny, my friend comments on my hair every single time I use this. It's under $10 too! Next time you're in Lush, get some, you won't be sorry.
This Necklace:
I found this necklace thanks to Emily, and I am so glad I did. I clicked straight from her post and bought it from the Etsy store she shared. I love it! I had my eye on the KS one forever but never would take the $80 plunge. When I saw this, for $18, I went for it. I've been wearing it often. There are other colors available too.
I can't wait to see what YOU all have been loving this last month.
I'll be back Friday for some real talk about stress and to share a new series I'll be doing every Tuesday in October. See you then!