I might as well title this August Food Faves, clearly I was more excited about food than beauty goods in August. Nothing wrong with that though, right?
Grab a button and link up your August favorites with Kelli and I. The link up is live throughout the month if you want to share at anytime.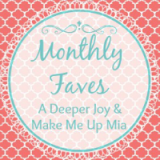 OPA Greek Yogurt Ranch is Delicious! I eat a lot of salad and this has become a new favorite for me. It's more expensive, but I'm willing to pay an extra $1 or $2 for a little healthier option. *Sometimes I mix plain Greek yogurt and ranch packets for a healthier veggie dip, yum!
Clif Crunch Granola Bars in Chocolate Chip & White Chocolate Macadamia Nut. I decided to try these out and I've enjoyed them for an occasional morning snack.
Van's Cinnamon Heaven Cereal A small bowl of this with strawberries or blueberries quickly became my go to cereal last month.
Zevia Soda in Strawberry. I'm a water drinker, but occasionally I just want something else. I had tried the Cola flavor of these and just didn't love it. I really like this strawberry one though, it's a nice treat every once in a while.
Essie Adore-A-Ball Polish I've honestly had this a while and forgot about it. I like this one better than Ballet Slippers. To me, it applies better and it's a little more white than pink.
Wen Sweet Almond Mint Hair Treatment If you've seen my awesome hair post, you know I'm always on the hunt for a good hair product. Shay recently did a Hair Mask Experiment and this one won. You can buy it on Amazon here for under $15, yes please. Bought, tried, loved! I've been using it once a week and it makes my hair so soft, I'm hooked!
EOS Lip Balm in Sweet Mint Who else is with me here?!
Your turn, what were YOU loving in August?