Well, I'm officially 28 now. I'm ok with it, I still feel 21!
I had the BEST birthday ever this weekend. My husband, friends, family and all my sweet blogger friends sure know how to make a girl feel loved. I mean it, I can't say thank you enough to everyone. I love celebrating my birthday and you all made it so special this year. Here is a little collage of my birthday-
-Gave myself a birthday mani
-Woke up early for a birthday workout
-Put sprinkles in my protein shake, because spinach & sprinkles just go together when it's your birthday
-Listened to Katy Perry Birthday, a lot
-Had a wonderful lunch with my best friends
-Ate yummy desserts at a local bakery
-Shopped til' we dropped at Nordstrom Rack
-Was treated to a beautiful surprise birthday dinner with the love of my life at one of our favorite places
-Was seriously spoiled way beyond what I deserve.
Again, thank you so much to every single person who made my day beyond special this year.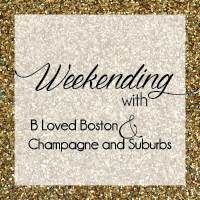 Linking up for a little weekend recap with Biana Today!