Well, bam. Just like that, another month has come and gone. Which means it's time to share my product loves from May and a new monthly focus for June. This month I'm even sharing a couple products I didn't like.
Thank you all so much for your sweet birthday comments yesterday, you all are the sweetest!
Favorites:
-Sinful Colors Nail Polish in Island Coral- I used this color several times in May. I'm a fan of the Sinful Colors polishes. They're under $2 and they last longer than a lot of the more expensive brands. This color is what I would describe as almost a neon coral, can't get enough! I did take a picture, but honestly it doesn't really capture or do it justice.
-Urban Decay Eyeshadow Primer Potion in Eden- This stuff has replaced all other shadow primers for me. I might be the only one, but I am not a fan of the original Primer Potion. This one however, I love. It's more like a concealer color and consistency which creates a great base and makes my shadow not budge, at all!
Unfavorites
-If you remember in my Benefit Gimme Brow review, I said I wanted to try the Sonia Kashuk Tinted Brow Gel. Well, I did and I don't like it at all. I thought the color wouldn't be dark enough, but that's not the problem. The problem I have with this stuff is it's way too liquify, it gets everywhere. Not a fan unfortunately.
-I've also been trying out some BB Creams this month. I'm loving the Dr. Jart+ brand ones, hated this Boscia one. The whipped like consistency just didn't win me over. I felt like you had to use way too much for any coverage amount.
Also, linking up with Maegen today for my monthly focus, my 1 goal for the month of June.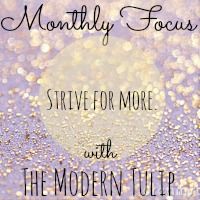 For me this month, I'm putting myself on a "No Buy" for the month of June. As most of you know, we're moving to the beach as soon as our house sells. We're still saving so we can be as prepared as possible. What's this mean? I can't buy anything extra this month. No beauty, no shoes, no clothes- nothing but the necessities. Now I do still have a little birthday money left and a Sephora gift card, so that doesn't count. Can't spend any extra money though. This should not be a problem after my birthday spoiling, if it is, I have a problem. Prayers on the house selling are appreciated :)
Have you tried any of these products, what is a May favorite or unfavorite for you?