Good morning loves. The last couple months I've read about Maegen's monthly focuses. One of her new years resolutions for this year was to pick something different to focus on each month. Smart girl.
I think it's an amazing idea. Life is always so hectic. So instead of making a ton of goals each month or trying to be superwomen, pick a couple things to focus on. You'll be more likely to achieve them this way!
Meagen has a link up where you can join in on this with her, and anyone else who is joining in as well. I'm a few months late, but I'm excited to link up with her this month and for the rest of the year. Grab the button and join in too!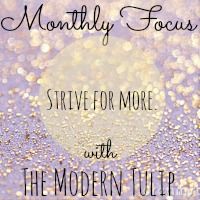 So, what did I pick for the month of April?
-RELAX-
I'm tired of constantly going. I'm over committed, most of us are right? We spent a lot of time in March checking things off the list that we needed to get done before our house sells and we move. Now that it's mostly all done, I want to relax in April. I want to spend time with friends and family and I also want to spend time at home with Dustin. I want to sit on the couch for hours on a Sunday afternoon not thinking about anything at all, just relaxing and drinking coffee. I want to take Pixie on more walks. I want to have more quality time with my bible study. I want to take baths and do face masks. I want to paint my nails more. Things like that.
So I am going to make it a priority to do things that make me happy in April, things that are relaxing to me.
Linking up today with Sassy Wife/Classy Life, The Ledford Life and Frankly My Dear for some Tuesday Tea.
What does relaxing look like to you?