I'm so glad the Glam Series is back, I missed it. Talking beauty is what this girl loves!
This weeks theme is beauty secrets/tips. I thought about my favorite ones and wanted to share 3 with you today. (mine is a day early due to our Thankful Thursday link up)
One- I shared this last week in my March favorites, it's newer but something that I'm absolutely loving. Egyptian Magic all purpose skin cream. I'm not the only one who loves this stuff, Lauren Conrad and Kate Hudson swear by it too, they actually matter ;) I have been using this on my chin/neck area for some crazy acne I've been having which is causing scaring. I can see a difference for sure. I also have been using it on my feet, cuticles and lips. It's greasy, it's not a lotion texture so you kind of have to get used to it.
Two- All of those perfume samples that come in your magazines, tear those babies out and keep them. They actually pack a good amount of scent and are perfect for a refresher when needed. I keep them in my desk or purse, they're great when you have to be somewhere and want a little extra scent after yours has worn off. Rub them on your wrists, arms or clothes. It's a good way to test out several scents.
Three- This is something I started doing about a year ago, I wish I'd started doing it sooner. When you're blow drying your hair, make sure and finish with a good long blast of cool air. I do it a few times throughout the drying process as well. It gives you a great shine and helps with frizz. I see a big difference in the shine department!
this week for The Glam Series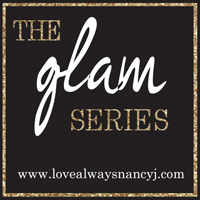 What is your favorite beauty secret?