Good morning- I am having a heck of a time waking up this morning. It's cold and I just want to stay in my pj's all day under a blanket. Thank God for coffee. Really, what would the world be like without it?
I've had a pretty good week, I always love when Friday rolls around and I get to reflect on the past few days.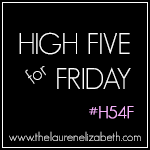 ONE- My friend Jen introduced me to the Harvest Chicken Salad sandwich at McAlister's Deli this week and I am officially addicted. She also pointed out to me that I say "I'm obsessed" a lot, sorry Jen, I am obsessed with this sandwich. You did it. I may have had it for lunch 2 days this week, in a row.
TWO- I am a pen snob. I love them and I am picky. While shopping at Target this week I saw a Sharpie display with different markers and these pens. I decided I must try one. I love it, it doesn't bleed through like other marker pens and it comes in all different colors. It will be perfect for my new Erin Condren Life Planner I am about to start filling out.
THREE- Tuesday night was perfect. I had a candle burning, blogged, ate ice cream and watched Friends. If Friends was the only show on TV, I'd be ok with that. I picked up this ice cream because I love blondies so I thought it would be good. It's ok, but I don't think I would purchase it again. Still enjoyed a few bites of it though. The night would have been even better if the hubby was with me, but he passed out early this night…
FOUR- Grocery shopping doesn't seem so much like a chore when the basket is red and they have a Starbucks! I have decided to try grocery shopping at Target now. I HATE Wal-Mart. Ours is so busy and you feel like your going to kill someone by the time you leave. It's not a pleasant experience. Our Target just expanded its food section, you can stack coupons, their cartwheel deals rock, no crowd to fight and thanks to Kristal I got the Target Red debit card, saving me another 5%.

Go Target!
FIVE- Monday I had a mani and a brow wax. I tried out a new nail salon in town and it was awesome. It's so pretty inside and they serve you a complementary drink. Wine and a mani, um yeah I think I found my new fave nail salon.
Ah, I seriously love these 2!
Hope you have a good weekend, thanks for stopping by.
What does your perfect night consist of?