Good morning and happy Friday loves. Another week has gone by and here we are, time to prepare ourselves for the weekend ahead. I am pretty darn happy today, it's an exciting day for me! See why below ;)
-The highlights of my week-
-This past weekend, Kristal and I hosted a baby shower for our dear friend Angela. Her sweet baby "bunny" is due in November. The sex of the baby is going to be a surprise, so baby has been referred to as bunny throughout the pregnancy. So sweet!
-The evening of the shower, we all spent time hanging out together outside and enjoying this weather. We enjoyed pizza, the hot tub and my favorite part, S'MORES! So tasty, I've been dreaming about them since.
-Sunday, Dustin took the top off of the Jeep and he and I took a little drive to the next town over and ate lunch together. It was a beautiful day, but maybe a little too cold for that. I was pretty chilly! Still enjoyed it though.
-One morning this week before work I stopped and got a coffee at a local coffee spot, Misty Brew. Holy cow it was delicious. First time getting a hot version of the white chocolate macadamia nut. I thoroughly enjoyed it, I see many more ahead in my cold weather future...
-Last but certainly not least, Kristal and I leave for Chicago this afternoon! I can not wait! I am in need of some time away to just relax and have fun with everything that has been going on lately. Touring the city and shopping will do me some good! I have struggled a little with going, but at the end of the day I know Christian wouldn't want me to cancel this trip. It's just 1 weekend away. Can't wait to post pictures and recaps after we return. I will Instagram and tweet photos while we are away too!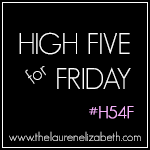 (Make sure to like the Facebook page for updates, he is making some very exciting progress. Keep it up little bro, he is such a fighter!)
What are your big weekend plans?