Morning loves and happy Friday! I'm back to my weekly High Five for Friday posts. Any big plans for the weekend? My husband and I are going to the fair tonight then we have some family coming in for our friends baby shower tomorrow. Looking forward to it!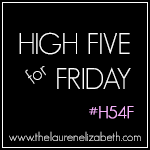 1- I joined in on a daily devotion reading of Wife after God with Kristal and a bunch of other ladies this week. It's a short reading each day for the month of October, then we are discussing it on a Facebook group. I am happy to be a part of it, I am 4 days in and really enjoying it!
2- My hubby and I got a Jeep this week, well he did but you know... It took a little longer to find one than expected after we sold his truck but we finally got one! I think it's going to be super fun in the summer time!
3- I shared a photo of my new fall purse on Instagram this week. I am obsessed. It's dark purple and perfect. Target seriously gets me every time....
4- I also shared a photo of our new end table, which I am also obsessed with. I bought it from a local vintage market and I could not be happier with it. It added just the pop of color in our living room I had been looking for.
5- Spending time with my brother this week. Yesterday, Christian and my parents were moved to The Childrens Center in Bethany, OK for long term recovery and then rehab. They are about 2 hours from me now, so I will be going up on weekends to see him now. Thank you for continuing to pray for him and my family. You can keep up with his story on the Facebook page Pray for Mayberry
Thanks for stopping by and have a great weekend!