Morning loves! It's that time again, Friday and time to reflect on the last week. It's 6am, I got up at 4am and I am tired. More on that in a few....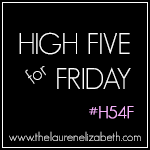 It's been a non stop but great week for me!
1- The hubby and I had a date night. We have a lot of date nights. I guess when you don't have kids a dinner/outing is a date right? We had pizza and drinks in downtown Tulsa. We were home by 7:30. Party animals, party of 2.
2- Bachelorette finale party with my girls. Great time with the girls, love them! I kind of touched on my Bachelorette thoughts here.
3- Tuesday was take out/cuddle night in our house. The hubby is about to be gone for over a week and that was the only night this week we were both home so we declared it "do nothing Tuesday". Note to self, stop eating Chinese food, forever.
4- Saw Taylor Swift this week. Not going to lie, this may not have been my 1st time, or 2nd time to see her... I know, you either love or hate her, I happen to like her and she puts on a great show. I am just a concert junkie. My friend I went with has seen her every time with me as well, we both share a love for concerts and T Swift.
5- Before the concert we ate at Stonehorse Cafe in Utica Square. I am pretty sure I had the best Hawaiian pizza I've ever had, YUM! I'm obsessed with Hawaiian pizza. We also shared a pb&j dessert, it intrigued us so we just had to try. I was pleasantly surprised!
Back to my early morning, I got up with my hubby today to tell him bye. He leaves for Alaska today for over a week. He is going with Kristal's hubby. They are fishing, camping, backpacking, hiking, biking, etc.... Not my idea of fun, us girls are going to have lots of girl time while they are away :) I also had to take my mom to the airport this morning about 5am. She is off to Florida for a week to babysit my nieces. Everyone is leaving me! That's ok though, I need some down time. First up on the list, catch up on sleep tonight!
Don't forget to enter my Ageless Derma giveaway. It is going on until the 15th.
Thanks for reading and hope you have a great weekend!