Good morning and happy Friday loves! This hectic week is coming to an end, yay. Time for another H54F posting, as I sit here and eat my vanilla chex....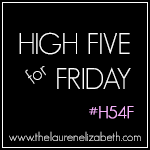 1- I visited the local farmers market with Kristal. We had a good time. I came home with Kale, Moscato jelly, the biggest cherry tomatoes I've ever seen and some sweet onions.
2-I made cupcakes for a friends birthday. I used to make cupcakes all the time, almost started a business but I realized it wasn't for me. I do still enjoy baking them though, occasionally.
3-Bath time with Pixie means snuggle time after and I <3 it!
4-I'm doing a beauty swap with a fellow beauty blogger and I got my package this week, SO FUN. That is a sneak at one of my gifts, detailed blog coming next week.
5-I got my first Honest shipment this week. Fun mail week! In my first bundle I'm trying the sunscreen (for Mexico!), toothpaste, veggie wash, dish soap and conditioner. I'll keep you posted.
I had a busy week but a good one as always. I hope you all did as well. Any big weekend plans? My hubby and I are going on date tomorrow night, we seem to be doing that pretty often lately. We started this thing where each month one of us has to completely plan a date. Nothing crazy, no big surprise, just make the decisions fully on their own. We're one of those couples, "Where do you want to go" "I don't care, you pick" "No you pick" so we came up with this little plan, it's been fun so far. This month is my turn ;)