Good morning loves, this post might be a little on the longer side. It's this weeks H54F and today is also mine and my husbands 5th anniversary, so I may have to talk about that a little.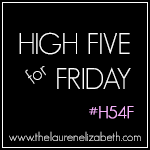 #1 of course, today being our anniversary!
-Kristal and I booked a little upcoming trip to Chicago! I am so excited to explore the city with her. We thought since our hubbies had an Alaska trip it was only fitting we got one too!
-I met the cutest little ball of fur ever, Cosby. My friends sweet kitty, he is so precious. I'm going to have to invest in a Ragdoll kitty one day for sure.
-Sold my hubbys truck, which makes us officially debt free! All in thanks to Dave Ramsey. Something we've been working on for almost 2 years. Great feeling!
-Spent last weekend in KS celebrating my brother and sister in law getting married. We had an amazing weekend, love them.
Onto today, celebrating 5 years of wedded bliss with this boy.
I can't believe it's been 5 years, time truly does fly when you're having fun. When I think back to when we got married I think about how incredibly young we were. I feel like we were babies, we kind of were. Dustin was only 19, about to turn 20. I had just turned 22 a couple months prior. Cradle robber, right here!
A friend and I were discussing recently how we both got married very young, but we think it was a good thing for us. This may not be the case for everyone, but it has worked for us. We said this because when we look back to planning our wedding, none of it really mattered to us. I was nick named bride-chilla, I'd MUCH rather have that name than
bride-zilla. I didn't stress about anything, not even the top tier of our wedding cake ending up on the ground. Our wedding was so simple, cheap and nothing extravagant but it was our wedding and a very special day. And when I think back to our first year of marriage, it was all so easy and fun. The way it should be.
When I reflect on the last 5 years, I think about all the happy times and amazing things we've been so blessed to experience at such a young age. I truly married my best friend. Only 5 years in, and so much still to look forward to.
Happy Anniversary to my best friend, I love you bear.
Ok loves, I leave in the morning for my Cancun vaca that I haven't shut up about.... I will be in total relaxation for a whole week in my idea of paradise
So have a good week, and stop back by for some guest posts, faves and reviews while I'm away!
Thanks for reading,
Mia