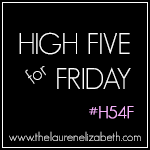 Good morning loves, hooray for the weekend. Hope everyone has had a great week and has some wonderful plans for the upcoming weekend. Mine includes a trip to the farmers market and a yummy dinner out. Welcome back for this weeks H54F posting!
-I got my new Origins GinZing eye cream to try. I have been looking for an eye cream I can use in the mornings, this one came highly recommended. It says it brightens and depuffs, I will definitely keep you posted!
-We had a perfect homemade pizza night with some of our best friends, it truly was the perfect way to start off our week.
-Giuliana & Bill is back. I am obsessed with Giuliana Rancic, she's definitely one of my fave celebs. I LOVE her and her hubby and their show, so I am so excited it's back on. If my hubby would agree to it, I would drive to Chicago just to eat at RPM. Wishful thinking.... Yes, in this pic she is booty popping in an adult onesie, reason #3458754 I love her.
-The hubby and I went miniature golfing, it was so fun. That is until I lost both of our balls in the water... Who builds a miniature golf game surrounded by water?
-This morning I am sitting here blogging, enjoying a rainy morning here in Oklahoma and a heavenly cup of Snicker doodle coffee. It's the little things really <3
Hope everyone has a perfect weekend!