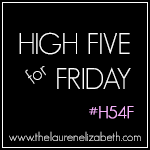 Good morning loves and happy Friday! Welcome back for this weeks High Five For Friday, time to reflect on some of my faves from my past week.
1- We took a road trip to KS to visit family
2-Mexican food with co workers to wish one of them farewell, but it was a happy dinner :)
3-Received my Ipsy bag in the mail, always a good day.
4-Ordered the new Jillian Michaels book "Slim for Life". Sometimes I feel like I need a good pick me up or motivation. Reading a good healthy eating and fitness book always does the trick.
5-A Venti SKVL from Starbucks made my day Thursday, it was exactly what I needed and it hit the spot!
Hope everyone has a wonderful weekend! I just got home from a 5:30 am workout with a friend. It was bring a friend to class day for her Crossfit bootcamp so I joined her. I am not used to getting up that early, hoping I don't crash later! I will be back Sunday with a posting on a typical weeks worth of food and exercise for me.