Hey loves! Happy Friday. I am busy busy today before we head out for the weekend. I love visiting family so I am definitely looking forward to a weekend away and hanging out with loved ones.
I am going to be participating in a High Five For Friday blogger link up each Friday. It's a highlight of your 5 favorite things from the week. It's from
The Lauren Elizabeth
. If you want to, you should join in too.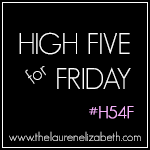 1- Ahhh, I discovered these Yoplait Greek frozen yogurt bars and I am hooked. I don't love Greek yogurt, I've found a few that are ok. Oh but these, yum!
2- Because I am off work today I got to sleep in! I LOVE sleeping in. It's one of the things I will very much enjoy until I have kids and can no longer do it. Ok, I didn't sleep until 9:40 but I hung out in bed.
3- I took my first bootcamp class. I was scared, nervous and intimidated to go try it by myself but I did and I was so glad I did. Something about that class being full of ripped men and women scared me! I will be returning :)
4- I signed up to try out The Honest Co products. I am really eager to try this line of organic and non toxic household products. Anyone else tried them? My friend Kristal has been trying them out and seems to really like them. I'll keep you posted!
5- We had my step mom over for dinner this week and made one of our new faves, Honey Barbecue Meatloaf. This stuff is easy to make and tastes delicious. I highly recommend it!
Hope everyone else had a great week, and I hope you have a great weekend! I'll be back Sun with an eye look to share with you.